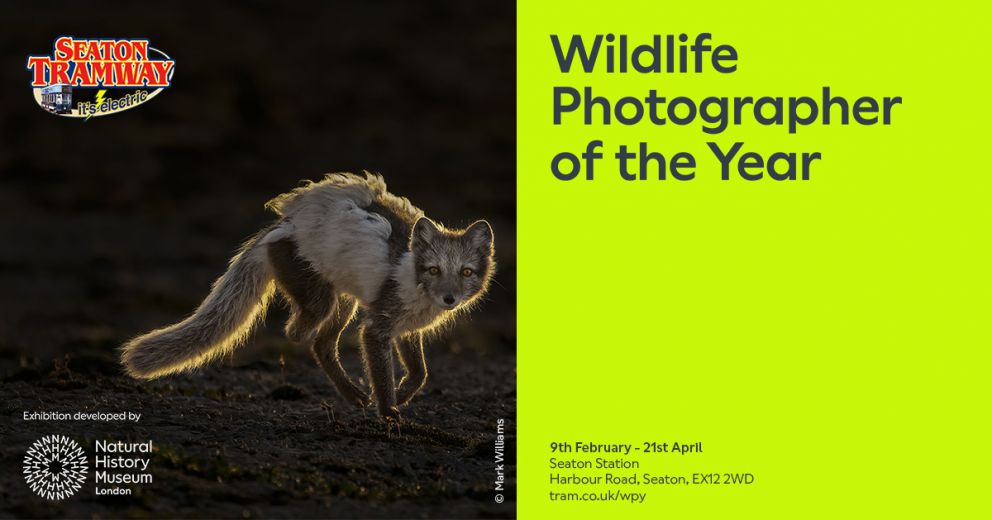 Mark Williams
Wildlife Photographer of the Year Exhibition
The world-renowned exhibition, on loan from the Natural History Museum in London, will open at Seaton Tramway on 9th February featuring exceptional images which capture fascinating animal behaviour, spectacular species and the breathtaking diversity of the natural world. Using photography's unique emotive power to engage and inspire audiences, the images shine a light on stories and species around the world and encourage a future of advocating for the planet.
View the 100 winning photographs out of 49,957 entries into the competition by photographers of all ages and experience levels from 95 countries.
The exhibition features soundscapes, videos, expert insights and stunning photography that captures animal behaviour, spectacular species, and the breathtaking diversity of the natural world.
Wildlife Photographer of the Year, established in 1965, is a globally renowned photography competition that highlights exceptional talent worldwide. With entries from over 90 countries, winning images are chosen for their creativity, originality and technical excellence by international experts.
Exhibition Open:
9th February - 21st April
10am - 4pm (Last Entry 3:30pm)
(10am-5pm from 29th March. Last Entry 4:30pm)

Tickets can be used at any time between the entry times for the date purchased.

9th Feb, 10:00 am - 21st Apr 2024, 4:00 pm
SHARE WITH FRIENDS
More Events