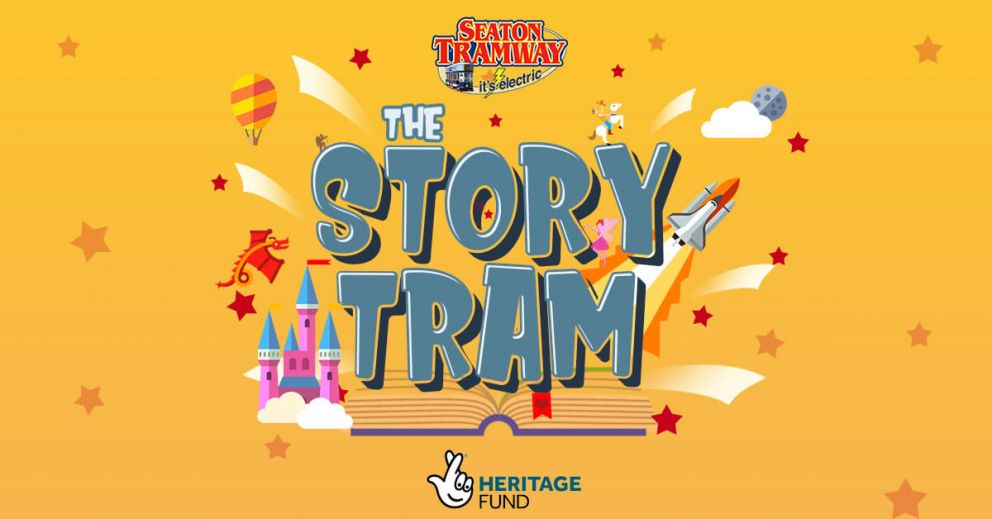 The Story Tram!
Adventure through the worlds of super stories and tall tales, onboard 'The Story Tram'.
All aboard the Story Tram! Every month take a tram ride from Seaton to Colyton with your little ones and inspire big imaginations with themed stories and action songs along the way. There will be an exciting new theme every month, brought to life by puppets and props and through fun games and activities on arrival at Colyton.
This experience is perfect for families with young children 4 and under and will depart Seaton on the first Friday of each month.
This is part of new educational programme of events at Seaton Tramway supported by the National Lottery Heritage Fund.
Please note that events & experiences may be subject to government Covid Safety Guidelines at the time of departure.
Should an event or experience be cancelled we will issue full refunds or credit for future trips.
2022
Tickets are available now!
February 25th
Children's favourite characters
Join us as we enter a world of themed activities and stories of characters from the world of animation
March 4th
Out of this World
Join us on a journey into the world of outer space.
April 1st
All Things Easter
Easter-themed activities to make you feel positively 'eggstatic'.
May 6th
Betty The Bee – What Makes Me, Me
Join local author Emily Hobson-Martin for storytime.
Followed by activities relating to the topic of understanding ourselves and our feelings.
Signed copies of books available to buy – no obligation
June 10th
Outdoor Activities – Blowing Away the Cobwebs
Activities, games, and stories in our enclosed event space – whatever the weather! Wear appropriate clothing.
July 1st
999 - Which Emergency Service?
Who do we call? – Stories and activities around our emergency services.
August 5th
Can We Fix It?
Come and show us your construction and building skills with activities and stories based around the construction and how things are built.
September 2nd
We're Going on a Bug Hunt!
Dress up in your coats and wellies and come and see what bugs we can find as we explore Seaton Wetlands.
(Tram ride from Seaton Station to Wetlands and return only)
October 7th
Fantastical Creatures
Lose yourself in a magical world full of dragons, unicorns and other mythical creatures through stories, activities and rhyme.
Story Tram Reviews
SamanthaLetten - ⭐⭐⭐⭐⭐
I was so pleased to finally get tickets for the very popular story tram. We very often watch the tram from the wetlands but haven't been on it before as for a family it is quite an expensive trip. The story tram offers a cheaper way of having this experience.

We boarded the tram which was done up to match the story, once we got to Colyton there were lots of activities for the children. Nicola who was running the slot we booked was very friendly and the staff had obviously gone to a lot of effort for the event. In all honesty I didn't expect it to be so enjoyable but we had a brilliant time.

On the way back we decide to go on the open top tram which was so fun! The driver was very informative and once we departed he let my children ding the tram bell which made their day! We will definitely be returning!
- Tripadvisor
Select dates throughout the year
SHARE WITH FRIENDS
More Events