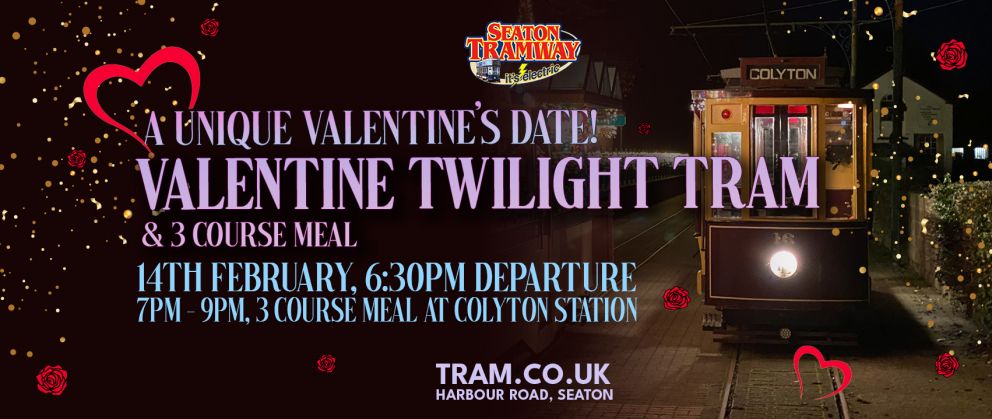 Valentines Twilight Tram and Meal!
Treat your loved one to a unique valentines date.
Take a lovely tram journey to Colyton from Seaton, and enjoy a three-course meal at Colyton Station before returning to Seaton.
Your tram will depart at 6:30 pm from Seaton Station, and travel 25 minutes north to Colyton Station where you will sit down for a wonderful 3 course meal, before returning by tram at 9 pm and arriving in Seaton at approximately 9:30 pm.
On arrival at Seaton Station, you will be greeted with a complimentary glass of prosecco.
Book your tickets, and ticket your menu choices per person.
Tickets for 2024 are now available.
2024 Valentine Menu
3 Course Meal and Tram Ride. £34.95

Starter
Tomato, Basil, Mozzarella Bruschetta
Smoked Fish Pot, Brown Toast
Pate & Toast, Salad Garnish

Main
Chicken Breast with Tarragon Sauce & Veg
Vegetarian En Croute
Grilled Fish with Parsley Butter and Potatoes & Veg

Desert
served with coffee
Chocolate Sweetheart Cake
Ice Cream Sundae
Pineapple Upside Cake with Custard
Please call us to book Wheelchair access. 01297 20375
Select dates throughout the year
SHARE WITH FRIENDS
More Events