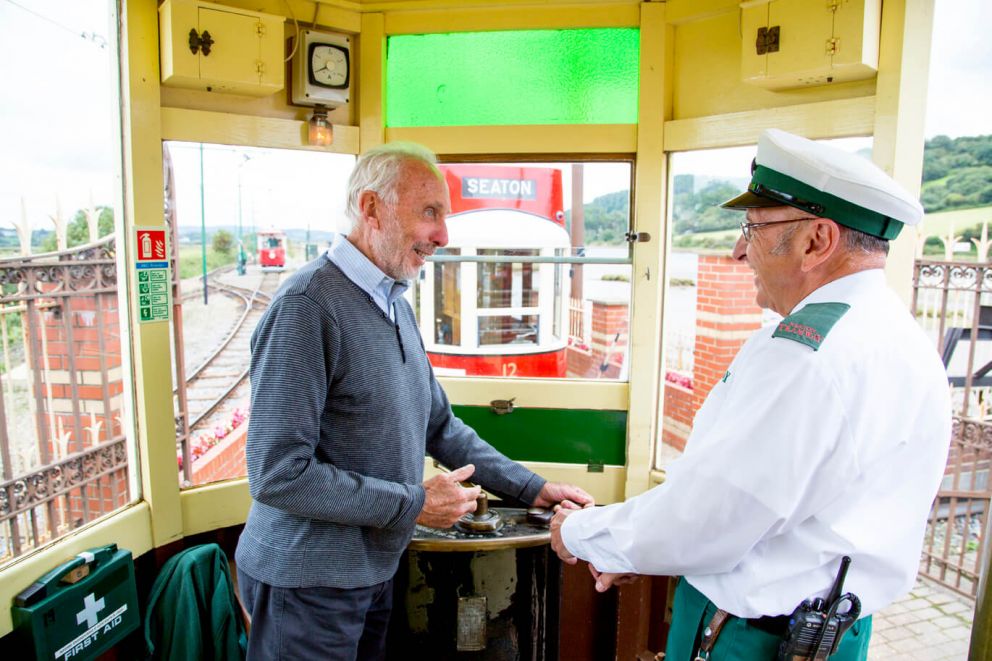 Tram Driving Lessons
Become a Seaton Tram Driver for the day with one of our driving experience courses. The courses are very "hands-on", giving you the chance to enjoy maximum time at the controls and drive in the same conditions as our own staff drivers. The course also includes a guided tour of the Tramway's HQ at Riverside Depot, giving the chance to see behind the scenes of our unique operation. At the conclusion of your course, you receive a commemorative certificate and souvenir to remind you of a great day out.
Courses are available 6th September - 30th October except for Sundays
PLEASE NOTE: This experience may be subject to Covid-Restrictions and will remain subject to change.
Due to the nature of the event, we will be making Face-coverings Mandatory on all Driver's Eye Experiences and Tram Driving Lessons indefinitely.
We will also be requiring the student to provide proof of a negative Lateral Flow Test taken the day before arrival at Seaton Tramway. This can be done by logging your negative NHS Lateral Flow Test via the gov.uk website. You will then receive a text message, email or notification on the NHS app which you will need to present to the driver on the day.
All courses include a souvenir certificate and the Tram Driving Lessons offer a special gift as a unique memory of the day's driving. Guest tickets receive the same refreshments as referred to above and an Explorer ticket enabling them to travel on the tramway all day if they so wish. Transfers by car to and from Axminster Station can be arranged from £20.00 return.
Booking Conditions
Before you book your lesson, you should consider whether you are physically fit enough to participate.
The course involves standing for long periods, and the operation of handbrakes can involve a strenuous physical effort. However, the instructor is on hand to help at all times and will be happy to take over more difficult tasks.
It may be necessary to use an open tramcar, so appropriate warm and waterproof clothing should be brought along as a precaution. We cannot accept tram driving bookings for anyone under the age of 18.
Seaton Tramway reserves the right to alter, curtail or cancel the booking without notice, but will endeavour not do so unless absolutely necessary. In the event of complete cancellation, full refunds will be offered.
Allergen Information:
We prepare food in kitchens with products containing gluten and nuts as well as other allergens. We have taken all reasonable steps to ensure that the allergen charts on view in the cafe are correct. We CANNOT guarantee that any product is "100% FREE FROM" any allergen because of the risk of unexpected cross-contamination.
More Events