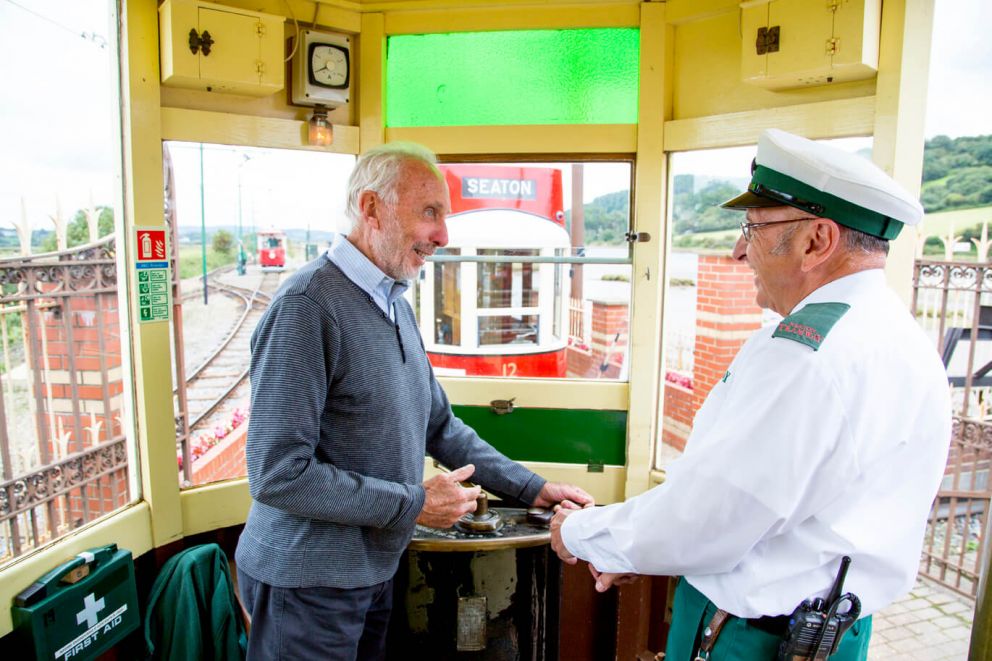 Tram Driving Lessons
Become a Seaton Tram Driver for the day with one of our driving experience courses. The courses are very "hands-on", giving you the chance to enjoy maximum time at the controls and drive in the same conditions as our own staff drivers. The course also includes a guided tour of the Tramway's HQ at Riverside Depot, giving the chance to see behind the scenes of our unique operation. At the conclusion of your course, you receive a commemorative certificate and souvenir to remind you of a great day out.
HALF DAY TRAM DRIVING LESSONs
Morning sessions start at 1010 departing Seaton and arriving back at 1244
Afternoon sessions start at 1330 departing Seaton and arriving back at 1604
Half-day tram driving lessons will give you 2 round trips between Seaton and Colyton and will conclude with a tour of Riverside Depot
FULL DAY TRAM DRIVING LESSONS
Starting at 0950 departing Seaton Station and arriving back at 1644
Full day lessons include a small refreshment break, and lunch at Colyton Station and conclude with a tour of Riverside Depot before returning to Seaton Station.
information
While the lessons do start in Seaton Station, students will not be permitted to drive in and out of the Station.
Once departed, round trips will be made between Riverside Halt and Colyton Station. The lesson will then end at Seaton Station.
All courses include a souvenir certificate
Guest tickets receive the same refreshments as referred to above and an Explorer ticket enabling them to travel on the tramway all day if they so wish.
This experience is for people aged 18 and over at the time of the lesson.
Before you book your lesson, you should consider whether you are physically fit enough to participate.
Although there is no age limit for this experience, students must be able to stand for long amounts of time and have a reasonable amount of strength to be able to be at the control of a tram. The instructor is on hand to help at all times and can take over more difficult tasks.
You do not have to hold a car/road vehicle license for the lessons.
Please note that if you wish to move forward with applying to drive a tram at Seaton Tramway, a car/road vehicle license will be required.
Students will not be permitted to operate the tram when crossing the road of A3052 in Colyford.
It may be necessary to use an open tramcar, so appropriate warm and waterproof clothing should be brought along as a precaution.
Seaton Tramway reserves the right to alter, curtail or cancel the booking without notice, but will endeavour not to do so unless absolutely necessary. In the event of a complete cancellation, full refunds will be offered.
Allergen Information:
We prepare food in kitchens with products containing gluten and nuts as well as other allergens. We have taken all reasonable steps to ensure that the allergen charts on view in the cafe are correct. We CANNOT guarantee that any product is "100% FREE FROM" any allergen because of the risk of unexpected cross-contamination.
The Perfect Gift
Tram Driving Lessons offer a special gift as a unique memory.
Did you know you can purchase a gift card especially for one of our tram driving experiences?
Why not buy one today and get a unique gift perfect for birthdays and Christmas
BUY GIFT VOUCHER
Driver's Eye Experience
Want to just get a taste of what driving a tram is like?
Take a look at our Driver's Eye Experiences which get you up to 30 minutes of driving time!
Find out more
More Events