EDWIN STARR BAND AT SEATON TRAMWAY - 27th August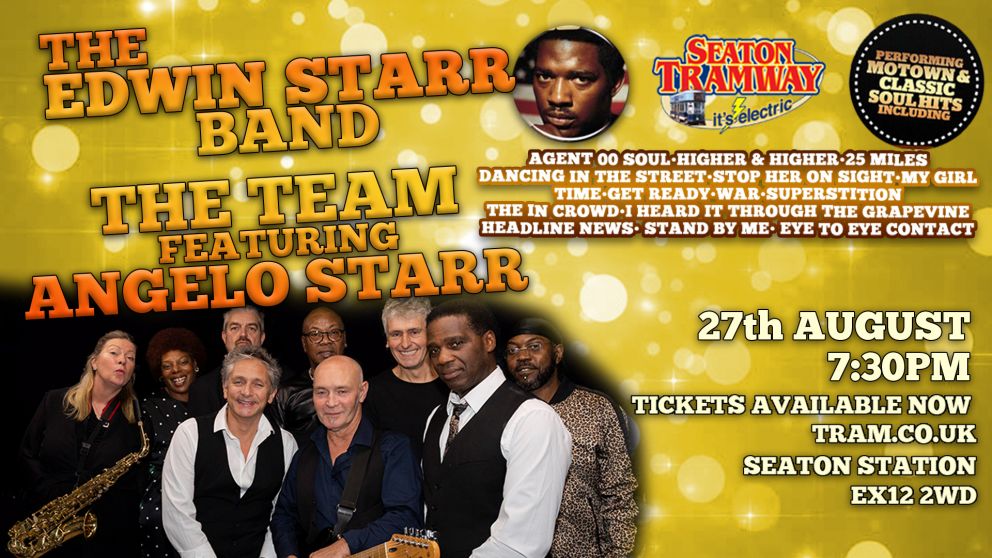 EDWIN STARR BAND comes to Seaton Station 27th August 2022!
Licensed bar and snacks available at Claude's cafe Seaton station.
DOORS OPEN 1930
SHOW STARTS 2030
The Team has been around since 1982; their reputation for consistently outstanding live performance is the foundation of their success; their intimate relationship with soul music has had legendary artists perform with them, and their audience is drawn from so wide a spectrum of people as to make the demographic indefinable.
Put together by percussionist Clive 'J.J.' Hare and bassman Kevin Kendall, the band approached 'Build Me Up Buttercup' vocalist Clem Curtis with a view to working together. Clem at that time did not need a band but he had a friend who did: The late, great motown artist Edwin Starr whose hits include 'War - What is it good for', 'S.O.S', 'Eye to Eye Contact' and 'H.A.P.P.Y Radio'.
With Edwin's passing in April 2003, younger brother Angelo, an original member of The Team whose credits include Alexander O'Neal and more recently Lemar, has taken over on lead vocals. Accordingly, there is a sense of continuity but more notably, a new energy; an energy that could only be generated by dedicated and well-travelled musicians and singers, performing for years with soul greats - and soaking up the influence.
Doors close at 11pm.
Children under the age of 13 must be accompanied by an adult. Challenge 25 will be in effect, please bring ID if you wish to purchase alcohol.
Seated and Non-Seated tickets are available
No refunds given unless the event is cancelled by us.
BOOK NOW
Other News