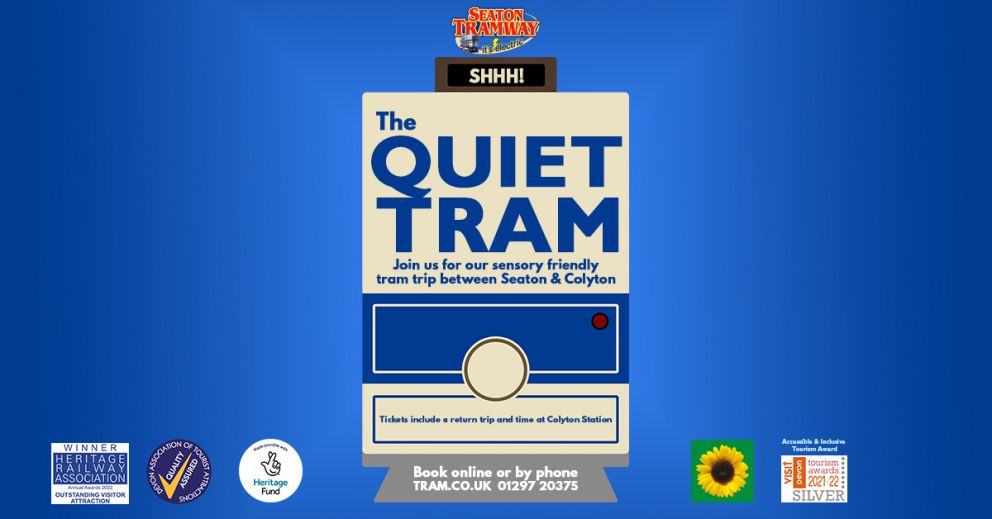 The Quiet Tram
The Quiet Tram is perfect for adults and children with additional needs who find noise and crowds challenging. Departing after hours, the tram ride to Colyton begins at Seaton Station with reduced lighting and minimal announcements and with no need to join lengthy queues.
Quiet Tram is a special monthly out-of-hours tram ride offered specifically for adults and children with neurodiverse conditions (including autism and other sensory processing difficulties) to enable them to enjoy the Tramway with their families or carers, free from the hustle and bustle of the general public.
This special service offers a relaxed 3-mile journey through the peaceful Axe Valley from Seaton to Colyton, passing through the Seaton Wetlands with its abundant wildlife. Sensory stimulus is kept to a minimum and on arrival at Colyton visitors can purchase a drink and a snack whilst enjoying the view over the historic town of Colyton from the Station platform or in the quiet space of the Garden Room.
All departures are supported by our experienced, autism-aware Learning and Activity Team who are on hand to help where needed.
Booking is essential as spaces are limited.
This activity is subsidised by the National Lottery Heritage Fund.
Select dates throughout the year
SHARE WITH FRIENDS
More Events