Tramathon 2022 will see all 12 trams out in service! 10am-10pm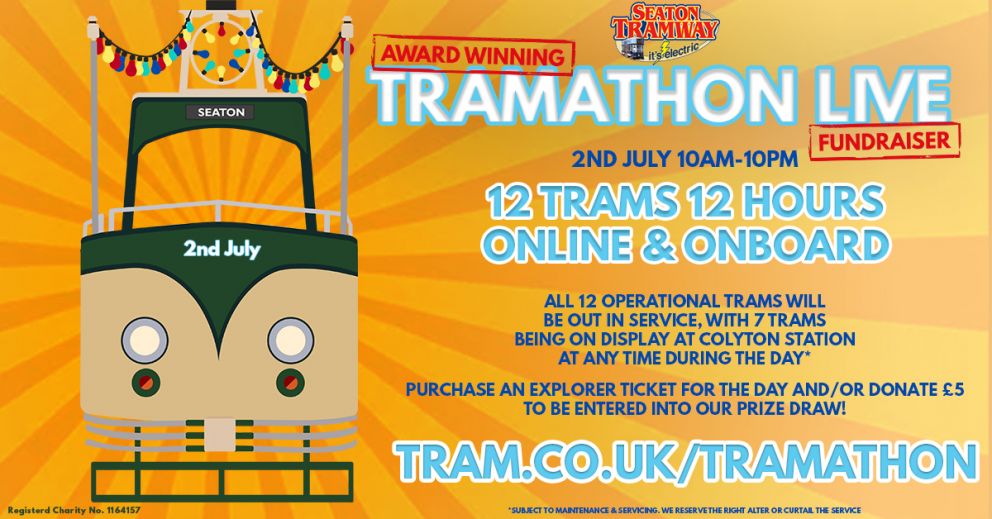 TRAMATHON LIVE 2022
12 HOUR TRAMATHON TO RAISE MONEY FOR HERITAGE TRAMWAY

WE WILL BE LIVE AT THE FOLLOWING LINKS
FACBOOK: https://www.facebook.com/SeatonTramway/live_videos
YOUTUBE: https://www.youtube.com/user/seatontramway/videos
WEBCAM: https://www.youtube.com/watch?v=IamIIRmNniA
Seaton Tramway is excited to announce its TRAMATHON Fundraising Appeal, which will see live videos streamed online to help raise money for the charity and secure the future of the tramway and its industrial heritage.
Tickets for Tramathon Trips are available now!

Tickets are a donation to our Tramathon Appeal and include an All-Day Explorer ticket for the day of travel on the standard service.
Tramathon Ticket only gets you travel on the trip of choice only. Purchase of additional tickets will be necessary for more than one trip on Tramathon.

Please note, the below-scheduled tram cars are planned but not guaranteed.
2, 4, 6, 8, 9, 10, 11, 12, 14, 15, 16, 19.
TRAMATHON 2022 will operate a bit differently from the previous 2 years.
This year we will have all 12 trams* out on the line! As well as the 5 trams in service the rest of the fleet will be on display at Colyton Station for everyone to look at and get up close to.
If you have a tram you like but don't see it out that often, now is your chance to see it for TRAMATHON 2022!
Colyton Station will transform, and you will be able to go 'on the tracks' to walk in and around the trams, with staff and drivers standing by to answer any and all questions you might have. Trams will then periodically swap into service to get a full run of our 3-mile line!
As usual, the team will be on the trams streaming live on Facebook all day.
The Tramway celebrated its 52nd year of operating at Seaton and like other heritage railways, 2020 saw an abrupt halt to its income, income that is vital in helping maintain the fleet and track. Railways and tramways like ours are supported by visitors and generous supporters that we love welcoming every year.
With the generosity of donations, we want to give back too.

This is why we will be giving away prizes and experiences as we hit fundraising milestones like
- Free Tickets to Seaton Tramway
- Driver's Eye Experiences,
- Half-Day and Whole Day Tram Driving Lesson
- Prizes donated from our friends at Railcam
All anyone has to do to be in with the chance of winning is to donate a minimum of £5 before July 2nd at 10pm to be entered. Please note only one entry per person upon first donation. Prizes will be drawn the 12-hour TRAMATHON. Full terms and conditions can be found on our website.
Seaton Tramway has operated from Seaton for 52 years and is a Registered Charity No. 1164157
HOW TO SUPPORT
JOIN US FOR TRAMATHON
TO DONATE: http://bit.ly/DonateToSeatonTramway
BUY TICKETS: https://tram.digitickets.co.uk/tickets
Bes sure to Gift Aid your Ticket with your donation, to make your money go further.
LOYALTY CARD: https://bit.ly/TramLoyaltyCard
Loyalty Cards are valid for 365 days from the date of purchase and holders receive 1/3 off daily tram service, plus more. Find out more here https://www.tram.co.uk/loyaltyCard
GIFT VOUCHERS: http://bit.ly/GiftVoucherSeatonTramway
THE DAY
From 10am Tramathon as well as our standard 20-minute service will begin.
7 Trams will be on display in rotation at Colyton Station until 5pm. This is the perfect opportunity for you to see all your favourite trams in one day!
4 of our 5 stops will be open!
- Colyton Station will be open from 10am - 10pm (Last orders 9:30pm).
- Colyford Station will be open as usual and is now home to the restored Isle of Thanet Shelter which was installed earlier this year.
- Wetlands Halt will be closed, as final construction work is yet to be completed.
- Riverside Halt will be open for one day only as a preview of its eventual opening. The Depot fan will be open to get up close to our maintenance cars, and tram 7 which is currently undergoing restoration!
- Seaton Station will of course be open for standard service until the last Tramathon tram departs at 9pm for its last round trip!
Find out more
Other News