Seaton Tramway's Award Winning TRAMATHON 24 Hour Fundraiser Returns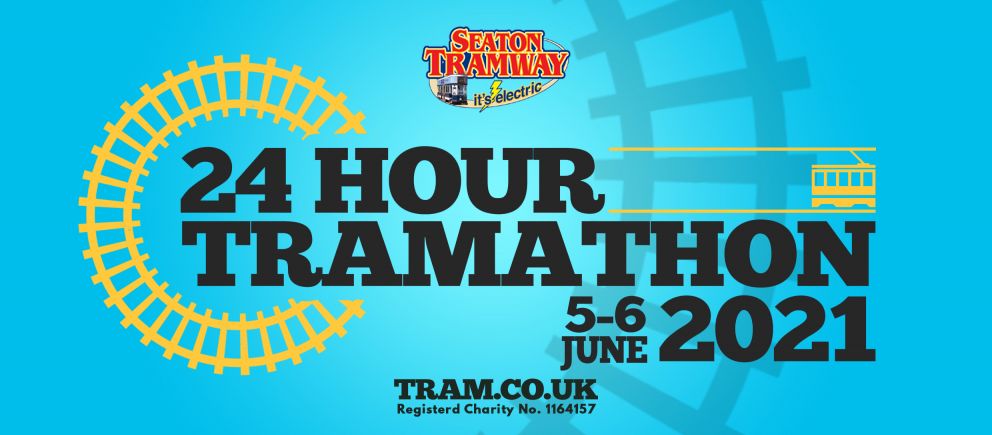 Seaton Tramway is excited to announce its Award winning TRAMATHON Fundraising Appeal, which will see a 24-hour continuous tram trip streamed online to help raise money for the charity and secure the future of the Tramway and its industrial heritage.
From Saturday 5th June, Seaton Tramway will be going live on Facebook for a continuous 24-hour tram trip between our Seaton and Colyton Stations. This will all be streamed live online for the full 24 hours as we raise money for our charity.
The Tramway celebrated its 50th anniversary of operating at Seaton in August 2020 and like other heritage railways has seen an abrupt halt to its income that helps keep trams serviced, the track maintained and its future secure. Reopening in 2021 with excitement about new projects and offers for our loyal passengers, bills continue to need to be paid and projects still need completing. Railways and tramways like ours are supported by visitors and generous supporters that we love welcoming every year.
To combat this crisis, we invite everyone to come together in person or in your living rooms to watch our TRAMATHON live. This fundraising appeal will see a continuous 24-hour broadcast live from the tram as it travels between Seaton and Colyton Stations. With a spread of themed departures and never before seen videos about the tramway, this is an event not to be missed. Visitors can get involved by donating directly to the appeal, purchasing special items like Seaton Tramway signs and sections of rail or by joining the Tramathon team live on the trams on one of the trips.
Tickets for the Tramathon trips are on sale now, and include a Tramathon return trip and all day travel on the date of issue. Trips begin at 12 midday, 5th June with the 24 trips going through the night and ending on arrival at Seaton Station at 12 midday Sunday 6th June. Tramathon 2020 was award 'Most Innovative Fundraising Idea' by the Heritage Railway Association at its award ceremony this April.
With the generosity of donations, we want to give back too. Which is why we will be awarding prizes away prizes and experiences as we hit fundraising milestones, like Driver's Eye Experiences, Half Day and Whole Day Tram Driving Lessons, Free Tickets and a Years Free Travel. All anyone has to do to be in with the chance of winning is donate a minimum of £5 before June 12th to be entered. Prizes will be drawn live on Facebook during the 24-hour TRAMATHON. Full terms and conditions can be found on our website.
In line with our fundraising appeal, we have also launched our new 'HERO Ticket' which can be purchased and redeemed as an All-Day Explorer ticket on any day we're open to the end of December 2021. These tickets are available now and will go towards our TRAMATHON Fundraiser.
Seaton Tramway has operated from Seaton for 50 years and has seen everything from Snow blizzards to storm washouts but Covid-19 has proved one of the greatest challenges that it's ever had to face.
You can find out more about the giveaways and milestones and how to donate at www.tram.co.uk/tramathon
Other News