Seaton Tramway Triumphs with Four Wins at the Devon Tourism Awards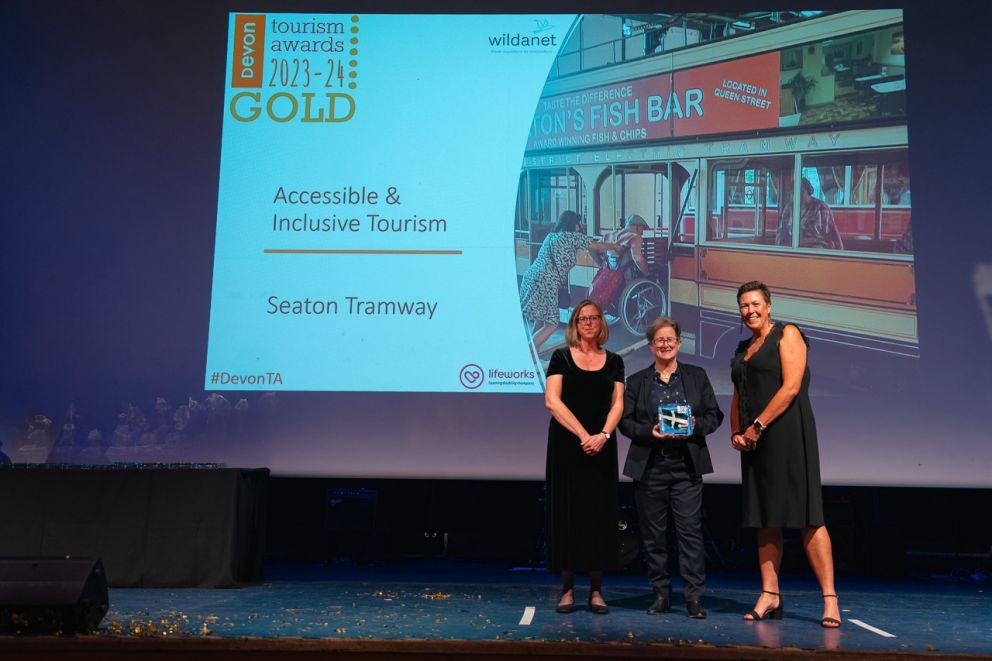 Nick Williams
East Devon attraction, Seaton Tramway, is proud to announce its outstanding success at the 14th Devon Tourism Awards held on 16th November at the Riviera International Conference Centre in Torquay. The night witnessed the gathering of Devon's tourism elite, celebrating resilience, innovation and excellence in the face of a challenging few years.
Seaton Tramway emerged as a standout attraction, clinching an impressive four awards across various categories:
GOLD - Accessible and Inclusive Tourism
Seaton Tramway's commitment to providing an inclusive and accessible experience for all visitors. Which includes training for staff & volunteers, accessible resources for visitors, as well as step free access across the tramway.
GOLD - Experience of the Year - The Story Tram
The Story Tram, a monthly themed experience for families with children under 4, took home the gold in the Experience of the Year category.
SILVER - Tourism Event of the Year - The Polar Express Tram Ride
Seaton Tramway's, The Polar Express Tram Ride secured Tourism Event of the Year, highlighting the success of this magical event that has become a staple in East Devon and is the longest-running Polar Express in the UK.
SILVER - Large Attraction of the Year
Seaton Tramway was honoured with the Silver award in the Large Attraction of the Year category. This recognition reflects the ongoing commitment to providing a top-tier destination for local people and visitors alike.
Jenny Nunn, CEO of Seaton Tramway said,
"Winning these awards is testament to the dedication of our team and the unwavering support of our visitors. At Seaton Tramway, we are committed to delivering exceptional experiences for all, and these accolades reaffirm our mission to create lasting memories and provide inclusive, accessible, and magical moments to everyone who steps aboard our trams."
Robin Barker, Awards organiser of Services for Tourism commented:
"What an extraordinary industry and county this is! Whatever is thrown at this sector there is a dynamic core that bypasses the hurdles and continues to innovate and invest – and what's also great is that entries into the awards are up – especially in the New Tourism Business, Ethical Responsible and Sustainable, and Accessible and Inclusive Tourism categories – all of them so central to a thriving region."
The awards ceremony, marked by a return to its pre-pandemic scale, witnessed 73 Dartington Crystal trophies being presented to outstanding businesses from across Devon. The night was filled with celebration as the tourism community came together to witness each other's successes.
Seaton Tramway's wins at the Devon Tourism Awards means it will now be fast-tracked into the South West Tourism Excellence Awards in March, with the potential to compete in the national 'VisitEngland awards' later in the year.
The award winning attraction is also set to purchase and operate the 'Seaton Jurassic' attraction, reopening it as Jurassic Discovery, in the Spring of 2024.

The Polar Express Tram Ride tickets are available at tram.co.uk for Christmas 2023.
Other News