SEATON TRAMWAY JOINS THE NATIONWIDE CAMPAIGN 'LOVE YOUR RAILWAY'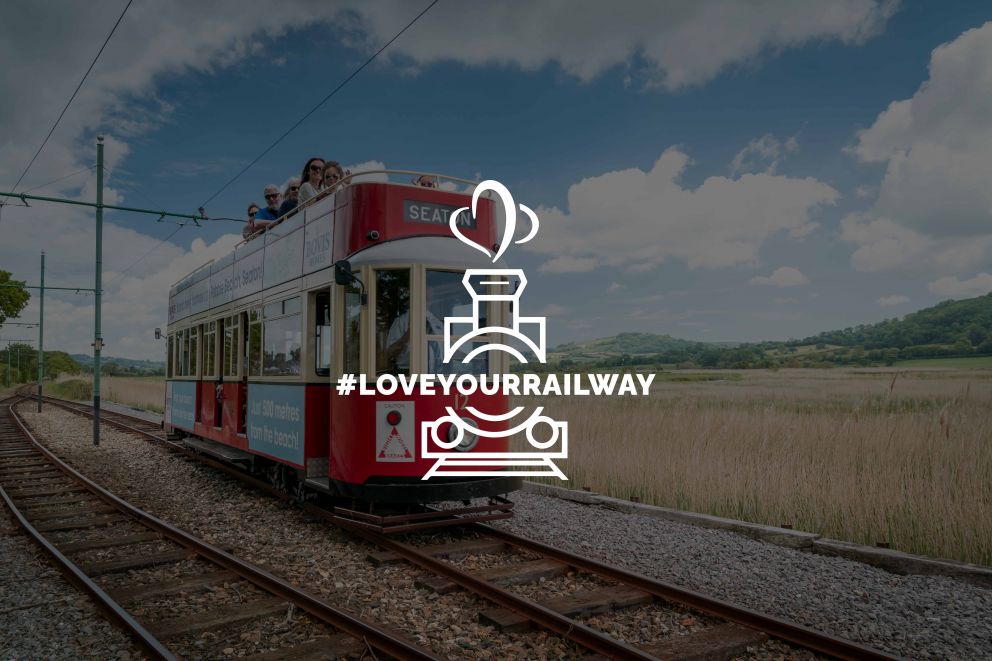 Heritage railways across the country, including Seaton Tramway are joining forces again this summer to raise awareness of their importance as a tourism destination, educating and telling the story of Britain's railways whilst also providing local jobs and volunteer community engagement.
Following the enormous success of the first two years, the third annual 'Love Your Railway' campaign, brings together organisations from as far afield as Scotland, Snowdonia, Leighton Buzzard and the Lake District* in the nationwide campaign which shines a spotlight on heritage railway organisations, encouraging visitors to support them this summer.
Spearheaded by the North Yorkshire Moors Railway (NYMR), 'Love Your Railway' is a six-week campaign which runs over from 5th June to 16th July, with weekly themes covering conservation, education and restoration.
Seaton Tramway and its fellow heritage railways from across the UK carry over 13 million passengers each year, over 560 miles of railway line and contribute £400 million in economic impact. 22,000 volunteers and over 4,000 paid employees keep the UK's heritage railways on track, highlighting the significant role railways played through the industrial revolution.

Josh Castree, Marketing Manager at Seaton Tramway, said:
"Seaton Tramway is a heritage tramway located in the beautiful East Devon countryside. We operate vintage trams along a beautiful 3-mile route, offering visitors a unique way to travel back in time."
"It's fantastic to be involved in the Love Your Railway campaign as it allows us to showcase the rich history our natural and industrial heritage has to offer. It allows us to share our passion for preserving and celebrating our trams."
"We work with a fantastic team of volunteers, who have a crucial role in the operation of our 14 trams. With over 50 volunteers, they make a difference in preserving our story and providing a great experience for our visitors. Their knowledge, enthusiasm, and commitment are second to none!"
"Opening in August 1970, over the years, we have grown and developed, becoming a top attraction that offers a unique glimpse into the past. Our trams have their own personalities and stories to tell, just like our staff, creating a memorable experience for visitors of all ages"
Stephen Oates, Chief Executive at The Heritage Railway Association, said:
"In 2021 'Love Your Railway' secured collaborations from as far afield as Cornwall, Suffolk, North Wales, North East Scotland and Northern Ireland, with over 55 heritage railway organisations taking part and last year the campaign was even more successful with over 85 participating heritage railways organisations. We've really proud to back this campaign and look forward to seeing many more rail organisations get involved."
The six themed weeks are: Volunteers, Fundraising, Community, Education, History, and Restoration. Throughout the campaign heritage railways are encouraging visitors and supporters
to get involved and share photos and memories of their visits on social media using #LoveYourRailway
Other News