SEATON TRAMWAY EXPANDS COMMUNITY EVENTS AND ENGAGEMENT IN THE WAKE OF COVID-19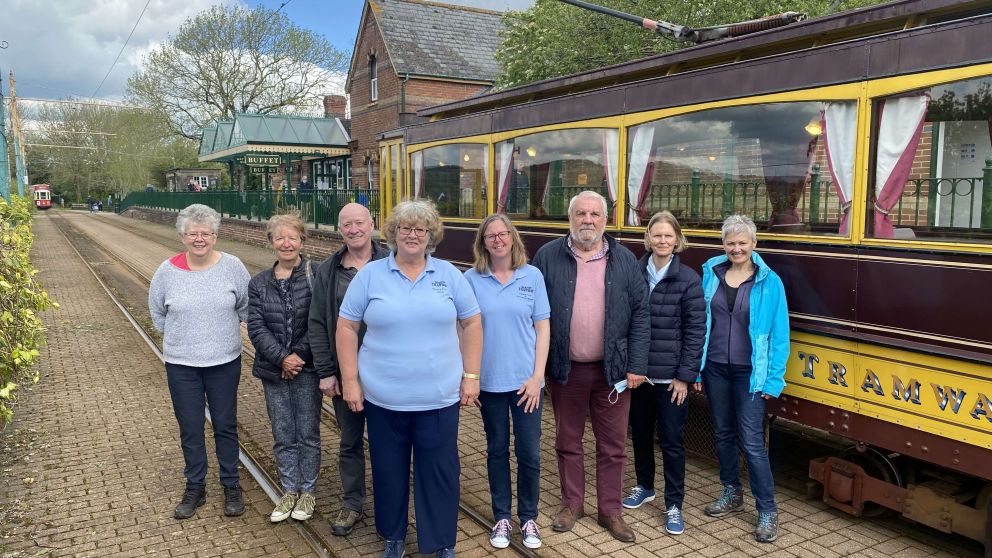 Seaton Tramway is bouncing back from covid-19 with a programme of events and outreach centred around the local community and local offers.

The Award-Winning East Devon attraction is once again expanding its offer by introducing a brand-new programme of events, offers and opportunities specially developed to include more for local and regional community groups and increased engagement of all ages and abilities. With the help of the National Lottery Heritage fund, a trial programme of events is now being introduced to the Seaton Tramway offer.
The Tramway is proud to be expanding its team, especially in the wake of the Covid-19 pandemic, whilst also sustaining its entire workforce since the start of the pandemic. As Seaton Tramway always strives to be inclusive in its offering not just with its visitors but with the staff it employs. The heritage attraction is proud to be registered as a 'Disability Confident Committed Employer' which means the Tramway provides a fully inclusive and accessible recruitment process, makes reasonable adjustments as required and ensures employees have appropriate disability awareness. The Tramway is also proud to be a part of the Hidden Disabilities 'Sunflower Scheme' which enables their staff to identify customers and colleagues with a hidden disability and to confidently provide them with additional help or assistance.

Partnering with Exeter College, the Tramway has recruited two engineering apprentices who are working directly with the Engineering Manager at the Riverside Depot, home to the fleet of 14 heritage trams. The Tramway is also currently advertising for a Marketing and Admin assistant as part of the Government's Kickstart Scheme which provides funding for job placements for 16 to 24 year olds on Universal Credit. The job posting is still currently open and those wishing to find out more and apply should contact [email protected]
Continuing with employment opportunities, the Tramway has created new volunteering opportunities to work with the Learning and Activity team to help deliver the activity programme.
Six new volunteers have already had their familiarisation session with the Learning and Activity team, Nicola Berry and Diane Roberts. The new volunteers are pictured: Sally, Liz, Neil, Geoff, Anna, and Cheryl.
The team will be delivering the new formal learning programme for schools which includes taught sessions focusing on STEM subjects and local history, as well as outreach sessions on a range of topics. In addition to this, the team will be delivering a range of activities for new audiences, including the new monthly Story Tram which has been a hit for parents and toddlers since its launch in 2019, and includes a tram ride with themed stories and songs followed by activities at Colyton.

Launching on 5th July a brand-new 'Coly Trail' leaflet has been developed with students of Colyton Grammar School in collaboration with Colyton Heritage Centre and Seaton Tramway. The leaflet was designed by the students and includes a historical timeline, a map and fun activities for children.

A new guided tour of Colyton; Trains, Trams & Trade, starts at Colyton tram station, it takes visitors on a walk into the town centre, stopping at points of interest and learning about the town's industry and key events in times gone by.

This year, for the first time the Tramway will be taking part in the Heritage Open Days festival. On 11th September the Tramway will be opening their doors free of charge for a selection of events to give visitors a peek behind the scenes. Tickets will be released soon on tram.co.uk/events
The Memory Tram will be launching in September for those living with dementia and their carers The sessions will start with a tram ride to Colyton followed by themed activities with opportunities to reminisce and socialise.
Seaton Tramway's Young Carers' Club is a monthly activity for Young Carers aged 6 to 12, with opportunities for the children to socialise and take part in fun activities. The first session in May was a very successful evening, with the children enjoying a tram ride and dinner as an introduction to the Tramway.
With the fantastic programme of events, activities, and opportunities the Tramway is offering in 2021, they are already looking at 2022 with the introduction of their new 'Quiet Trams', which will be an out-of-hours tram ride for people with hidden disabilities, including autism, who find busy, noisy environments challenging. More information about these sessions will be announced later in the year.

And coming this January to Seaton Station will be the fantastic new 'Dinosaur Adventure Show' presented by Dino4Hire, the team behind the hit 'Dinomania Tour', They will be offering 5 days of dinosaur workshops for local schools with their realistic walking dinosaurs, small interactive puppets, animatronics, fossils, and replicas. The week will end with some Dinosaur Adventure Shows on Saturday open to the public. Tickets will be available soon.
Seaton Tramway is pleased to announce that it is the new organiser of the Natural Seaton Festival for 2022, an event previously organised by Seaton Jurassic & Devon Wildlife Trust, and the Seaton Visitor Centre Trust. The Tramway team are proud to take this already well established and much-loved event into the future ensuring that Seaton remains firmly on the map as a holiday destination.
Seaton Tramway is aware of Seaton Jurassic's planned closure in September and has expressed its interest to EDDC about its future successful operation.
Seaton Tramway is open daily from 10am-5pm until October 31st. Trams currently depart every 20 minutes, but a full timetable can be found on their website.

To find out more about the new activities that Seaton Tramway has to offer, visit www.tram.co.uk .
Other News