Reopening 12th April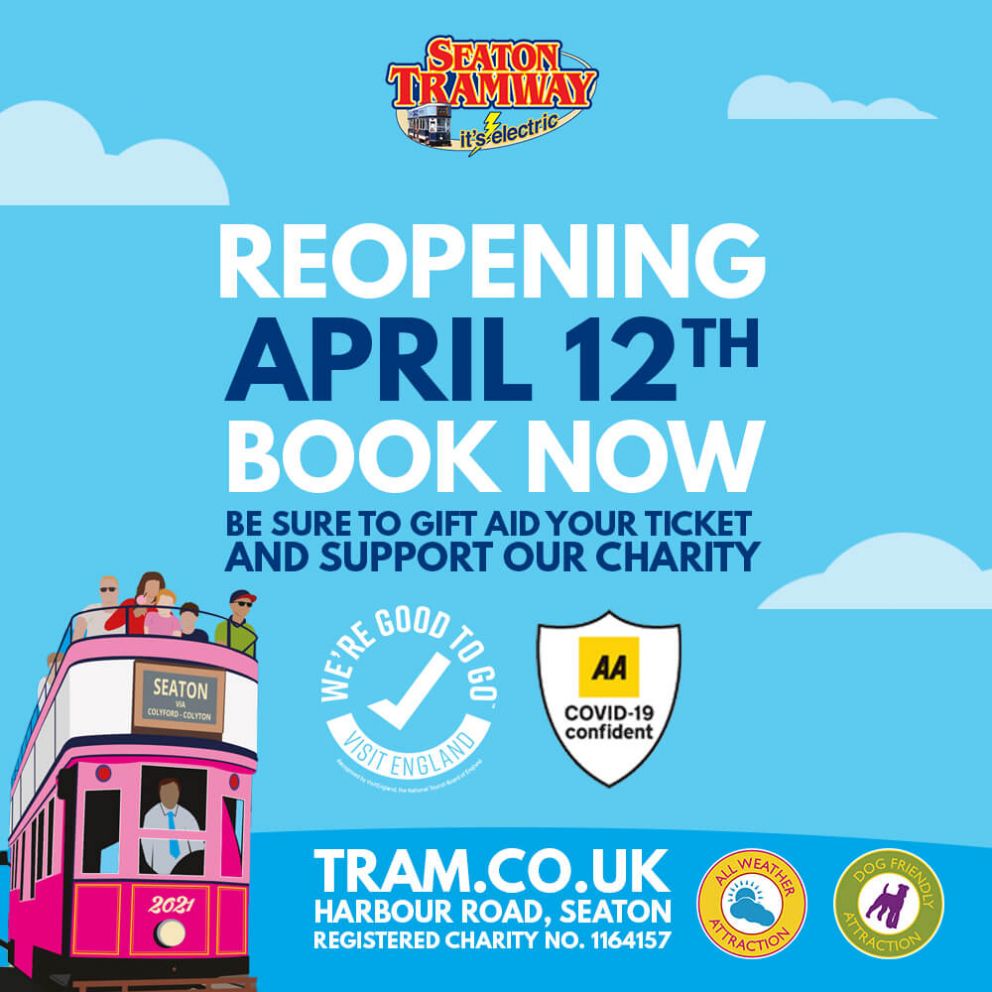 Following the recent Government announcements, we are delighted to say that Seaton Tramway hopes to re-open 12th April at 10am, subject to the lifting of government restrictions.
Seaton Tramway is pleased to be resuming its tram service from 10am 12th April with trams running every 30 minutes until 5pm. Journey back in time to a golden age of travel and enjoy the panoramic delights of the Axe Valley.
The health and safety of Seaton Tramway's staff and visitors remain our number one priority. The successful covid safe response which was put in place in 2020 will continue from 12th April in line with Government guidelines. Capacity on trams will be reduced. Hand Sanitising stations will be present at all entrance and exits. The Rule of 6 will be in place until at least 21st June. Our full covid response can be found www.tram.co.uk/covidresponse
2021 continues the 50th operational year of trams operation in Seaton following its anniversary on 28th August 2020. Seaton Tramway hopes to start introducing new offers to visitors days out on the Axe Valley. The 2021 season will see the opening of two new halts across the 3-mile line, Riverside Halt and Wetlands Halt which we aim to open before the summer. Families can include Gilbert's Trail as part of their visit to Seaton Tramway, with a 14 page booklet full of activities, information and stamp hunt! Visitors will also notice the installation of new interpretation across the Tramway which will increase the exciting things you can learn and discover when enjoying a day out.
Tickets can be purchased now for your visit Seaton Tramway. You can also purchase the HERO TICKET* before 12th April 2022 for use as soon as we reopen this year, valid through to 31st December 2021.
Loyalty Cards can be purchased now to save you up to a 1/3 off All Day Explorer tickets plus one other guest! Save with Loyalty Card Off Peak fares on Friday and Saturday service (excluding Red Service).
Annual Payment £10.00 Adult and £5.00 Child (2-15). Card is valid for 365 days from the date of purchase.
10% saving on our Special Days Out programme and Special Events.
10% off at the Seaton Tramway Shops (card holder only).
10% off at the Tramstop Cafe, Colyton Station (cardholder only) which offers an extensive menu of hot meals and snacks.
Free return trip when you collect 10 tickets.
Money raised through these tickets will ensure the continuation of our much-loved Tramway as we look forward to once again taking you on a trip through the wonderful Axe Valley!
The majority of our events and experiences will continue after 21st June following updates from the government guidance. Please note that if you have purchased a ticket to an event or experience prior to this date, you will be contacted soon by a member of staff.
The recent lockdown has been a devastating blow at the end of an already difficult 12 months for attractions and heritage railways like Seaton Tramway. Once again the tramway is appealing to its visitors through its TRAMATHON 2021 appeal. Donations can be made via the website or added to tickets purchased. Visitors are also reminded to Gift Aid their tickets at no extra cost to them. Gift Aid allows Seaton Tramway to claim an extra 25p per £1, making your money go further.
TRAMATHON 2021 will be celebrated with a 24-hour live tram service 5-6th June. Seaton Tramway will go live online for 24 hours with programmed entertainment planned to support the fundraiser, this time with passengers! More information can be found at tram.co.uk/Tramathon.
Updates will continue via tram.co.uk regarding tickets, new operational times and our new Covid Safe procedures
Find out more about what we are doing to re-open here: www.tram.co.uk/covidresponse
Other News