Natural Seaton Festival - 21st - 23rd July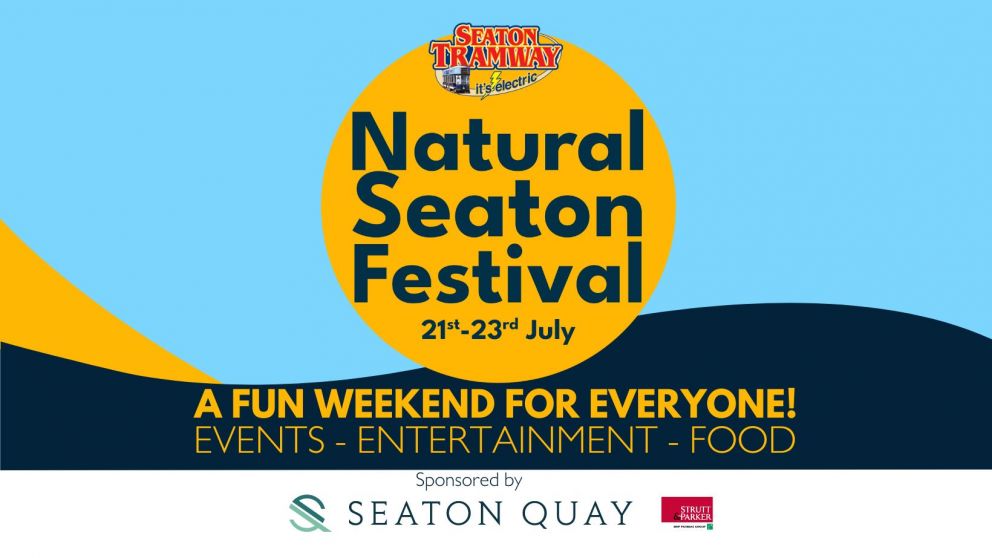 Seaton Tramway is delighted to announce that the Natural Seaton Festival is returning for its second year in 2023. This year's festival will take place from the 21st to 23rd July
Visitors can expect a weekend full of exciting activities and entertainment for all ages, spread throughout the town. Tesco Plaza will host a variety of stalls showcasing local products and crafts, while Thury Harcourt Place will feature a wide selection of eateries and a bar serving up delicious food and drinks.
The festival will run from 1800 to 2200 on Friday, and 10.00 to 18.00 on Saturday and Sunday days, with entertainment, retail, food, and music to keep everyone entertained. Visitors can expect performances and activities inspired by our Natural surroundings, including storytelling, and live music.
"We are thrilled to bring back the Natural Seaton Festival for its 2023 edition, celebrating the best of our community and the sea," said the festival's Organiser, Nicola Stone. "We are looking forward to showcasing local talent, crafts, and food, and to welcoming visitors from across the region."
The festival is made possible thanks to the support of our Sponsor, Seaton Quay, and local businesses and organisations. "We are grateful to our sponsors for their continued support, which helps us cover the costs of hosting the festival and ensuring that it is a success," added Stone.
FRIDAY NIGHT 21st July
Join us at Seaton Station for entertainment provided by the local band 'Seatrees', and enjoy the delights of various food and drink from our festival vendors.
Music is free to attend!
SATURDAY - 22nd
| Where | What | When |
| --- | --- | --- |
| Seaton Amphitheatre | Lyme Luggers - Music | 1000-1045 |
| | Seaton Majorettes | 1115 - 1145 |
| | Circus Skills | 1300 - 1700 |
| | | |
| Thury Harcourt | Puppeteer Gerry Bennett | 1000 - 1700 |
| | | |
| Tesco Plaza | Dancercise | 1000 |
| | Body Balance | 1100 |
| | Bards Bee's | |
| | Axe Throwing | 1000- 1700 |
| | | |
| Seaton Wetlands | Drop-in pond dipping session | 1000-1200 |
| | 'Minibeast' Hunting | 1300-1500 |
| | | |
| Seaton Beach | Beach Art - Peter Margerum | 1000-1600 |
| | Marine Life Rescue | 1230 & 1500 |
| | RNLI Coast Guard Rescue | 1400 |
| | | |
| Seaton Station | ABBA: Take A Chance On Us | 2030 |
| | | |
| Seaton Gateway | | |
SUNDAY - 23rd July
| Where | What | When |
| --- | --- | --- |
| Seaton Amphitheatre | Tano Taiko Drum | 1115 - 1300 |
| | Seaton Police (Subject to availability) | 1330 - 1530 |
| | Fun Dog Show | 1600 - 1700 |
| | | |
| Thury Harcourt | Lazy River Swing - Music | 1315 - 1545 |
| | | |
| Tesco Plaza | Exotic Animal HQ | 1000 - 1700 |
| | Bearhouse Alpacas | 1000 -1600 |
| | | |
| Seaton Beach | Marine Life Rescue | 1230 & 1500 |
| | | |
| Seaton Tramway | Birdwatching Tram | 1800 - 2000 |
Other News