Enjoy Half-Price tickets at Seaton Tramway, as The National Lottery Open Week returns for spring 2022.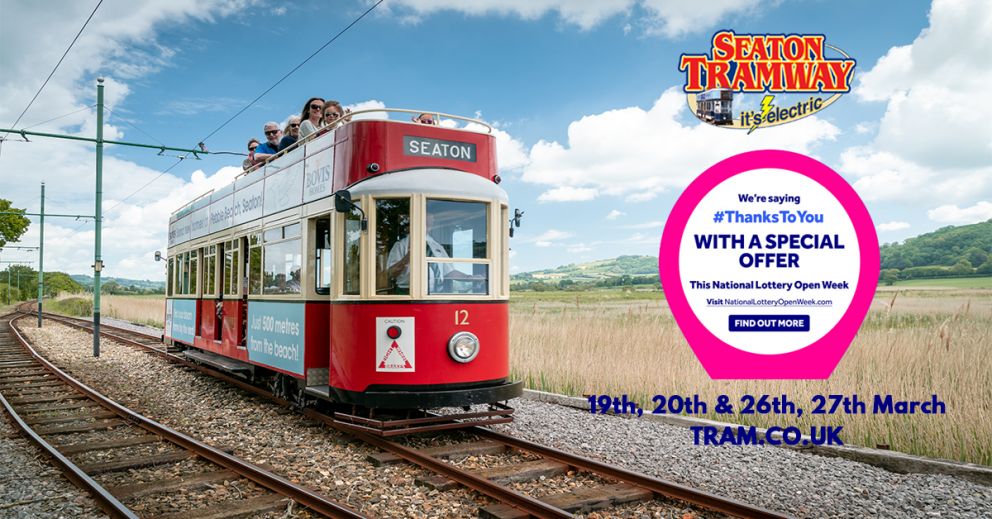 To say thank you for the £30m raised for good causes every week by players, National Lotteryfunded venues are offering free entry, discounts, and special offers throughout Open Week
A National Lottery ticket or scratchcard can be used to unlock the offers at
www.nationallotteryopenweek.com
The National Lottery Open Week runs 19 - 27 March
Seaton Tramway is giving Half-Price Adult Explorer Tickets on select dates
To say thank you for the £30m raised for good causes every week by players, The National Lottery is offering free entry and special offers at a range of National Lottery funded venues across the UK as part of The National Lottery Open Week.
From Saturday 19th – Sunday 27th March, anyone with a valid National Lottery ticket or scratchcard can enjoy exclusive offers at Lottery-funded venues and attractions, including Seaton Tramway. There is so much to explore this Open Week, from delving into the past at historical houses, castles and museums to embracing nature in all its glory at wildlife hotspots, to reliving iconic moments at sports venues or enjoying a culture fix at art galleries and theatres across the UK.
To thank National Lottery players for their support, Seaton Tramway will be offering Half-price Adult Explorer Tickets on 19th, 20th, 26th & 27th March. Anyone who presents any National Lottery ticket (digital or physical), scratchcard, or Instant Win Game, on these dates will be able to take up this special offer.
Visit tram.co.uk/thankstoyou for full terms

As a recipient of National Lottery funding, Seaton Tramway has been able to deliver its Travels Through Heritage and the Axe Valley Project, which has allowed the charity to expand its offer of interpretation and activities. Including the new Seaton Wetlands Halt which is due to open this year.
"We're delighted to be taking part in The National Lottery Open Week this year. We've been fortunate to receive National Lottery funding, which has enabled us to deliver new events, experiences and infrastructure since 2017. So this is our way of saying thank you to everyone who has bought a National Lottery ticket, helped us on our journey and made a vital contribution to supporting good causes. We're excited to welcome you back soon"
Seaton Tramway recently won twice at the Devon Tourism Awards, winning Silver for Large Attraction of the Year & Silver for Accessible and Inclusive Tourism Award. They are also nominated for Outstanding Visitor Attraction at the Heritage Railway Association awards which will be announced on 19th March. The Tramway is currently presenting the Wildlife Photographer of the Year Exhibition at Seaton Station. The world-renowned Exhibit of 100 wildlife photographs are on loan from the Natural History Museum, London.
To view all venues and offers that are available throughout The National Lottery Open Week, visit www.nationallotteryopenweek.com.
Darren Henley OBE, Chief Executive of Arts Council England and Chair of the National Lottery Forum said: "The National Lottery Open Week is a fantastic opportunity for hundreds of venues and projects across the UK to say thanks to players who raise £30 million each week for Good Causes. The UK is world-renowned for its rich and vibrant culture, and with so many incredible sites across sport, heritage, film, community and the arts sectors taking part in Open Week this year, National Lottery players are spoilt for choice when it comes to a great day out."
To discover more participating venues, insider tips and how to redeem offers for The National Lottery Open Week visit www.nationallotteryopenweek.com.
Terms and conditions and booking instructions across special offers will vary, check the individual offer listing for details.
Find out more
Other News