EAST DEVON'S SEATON TRAMWAY WINS TWICE AT DEVON TOURISM AWARDS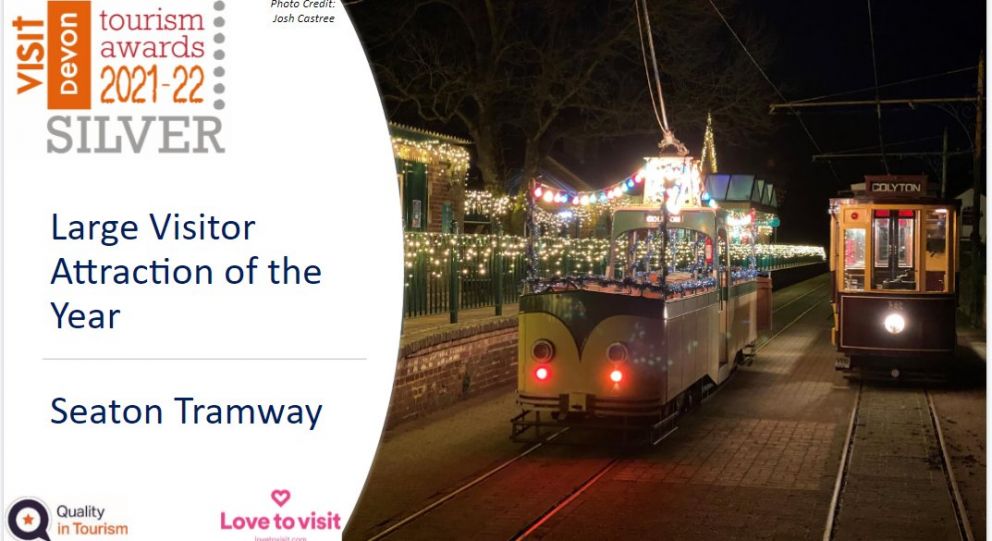 The Heritage attraction in East Devon, Seaton Tramway wins SILVER for Accessible and Inclusive Tourism Awards & SILVER for Large Visitor Attractions of the Year, at the Devon Tourism Awards presentation which celebrated excellence across the industry.
The Tramway team learnt of their success via a Zoom presentation during the awards ceremony on 10th March alongside other competing attractions and businesses around Devon, whilst in the midst of 'Disability in the Workplace' training on-site.
The Tramway has developed and expanded its offer greatly over the past few years, investing in new infrastructure, staff training and new events and experiences focused on being inclusive and accessible. With its trams being wheelchair accessible as early as 1988, accessibility has been a large part of the East Devons Charity's ethos. That attitude has continued through with new halts and infrastructure being created with accessibility in mind. The heritage attraction has also trained staff for Mental Health, Disability, Dementia and Deaf Awareness and in 2021 became a Disability Confident Employer. The Tramway is also part of the Nationally recognises Sunflower Campaign.
As all businesses experienced throughout the pandemic, Seaton Tramway had to face major changes in the way it operates but rose to the challenge to see one of its best years by the end of 2021. The 3 mile route which has been home to the Tramway since 1970, will see two new stops added to the journey in 2022. Allowing access to its Riverside Halt and access to over 4km of walking trails via its new Seaton Wetlands Halt where passengers will be able to board and alight to the neighbouring Nature Reserves.
"After being in business for over 50 years, it is good to know we continue to move forward on the right tracks and be recognised for the hard work we all do as a team at Seaton Tramway. It's important to us that we join our friends and businesses around Devon to be able to lead the way. From winning the Welcome Accolade for Customer Service to these Devon Awards, it truly shows the hard work from everyone who works for Seaton Tramway" commented Marketing Manager, Josh Castree.
Trams depart every 20 minutes daily between Seaton and Colyton, with open top double-deckers to enclosed saloons this is the way to travel the beautiful Axe Valley, whatever the weather!
Visit tram.co.uk to book your day out
Other News