Birdwatching Trip Report – 6th August 2023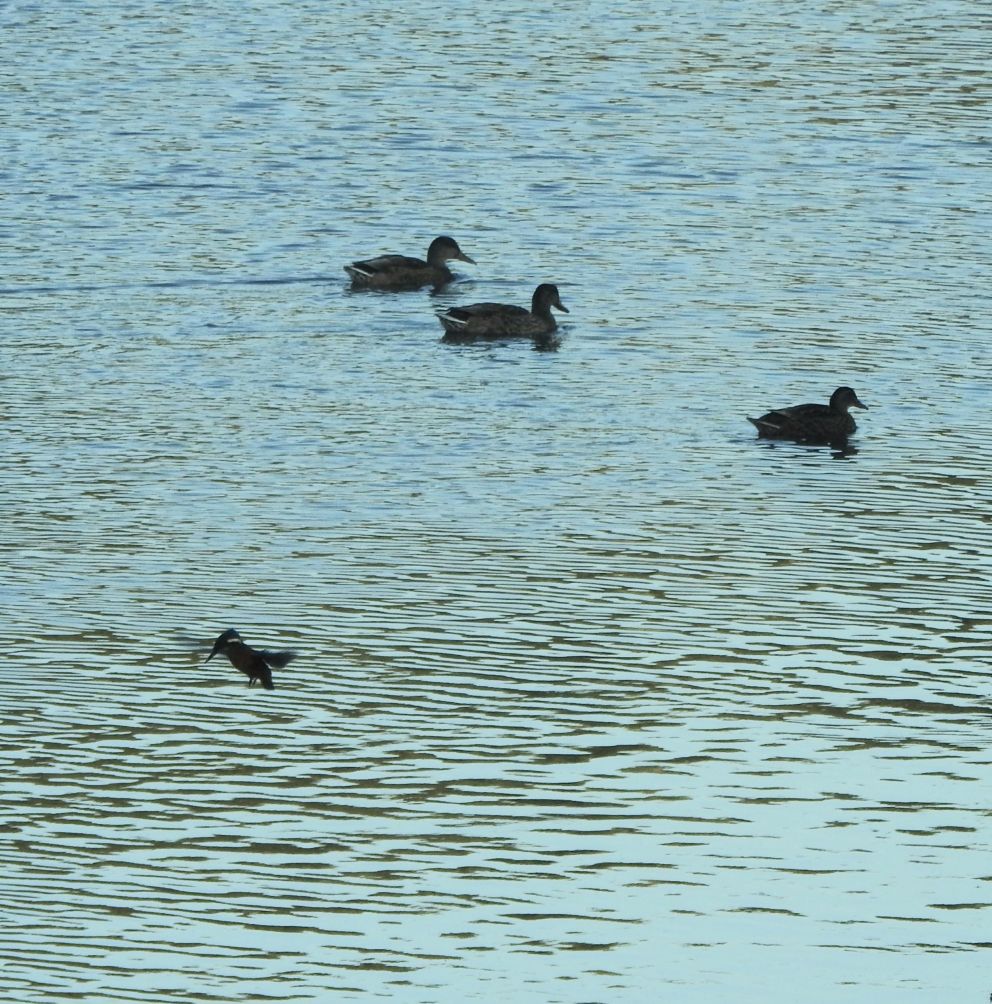 Steve Waite
A perfect evening weather-wise, with the sun shining for the entire two-hour trip watching the wildlife of the Axe Valley by tram.
It was a thrill to see the Axe born and bred Avocets on Black Hole Marsh; two adults nested on the marsh in June which led to the hatching of three chicks, the first time this species has ever nested in Devon. One of the adults and the three large chicks were feeding on the marsh upon the trams arrival, however they all soon took flight and looked to be flying up and away. But just as it seemed like they were departing the Axe Valley, they banked around and flew right over the tram before dropping back onto Black Hole Marsh. This behaviour is a sure sign they are probably just days away from leaving but quite amazing to see, particularly for the guide who has been watching the chicks since they were just a few hours old.
There had been two brief Kingfisher sightings, but on the return journey the entire tram were treated to prolonged views of one successfully fishing by Tower Hide. With the tide out there were no overhanging perches for it to scan for fish from, so it was repeatedly hovering mid-air before diving in to grab its prey, and after each catch returned to the shore to consume the unlucky fish. If the views weren't already amazing enough, when it did finally leave it flew low past the tram showing off its iridescent blue to all onboard.
Wading birds were as always well represented, with the highlights (aside the Avocets) being two Dunlin, three Greenshank, several Lapwing and Common Sandpipers and a surprise Green Sandpiper on a small pool on Colyford Marsh. Looking up had its rewards too, with good numbers of House and Sand Martins, Swallows and a few Swifts feeding over the valley, with a mighty Peregrine Falcon also seen for several minutes, no doubt on the lookout for its next meal.
In total 51 species of birds were recorded during the two-hour trip (see below) as well as very close sightings of two Roe Deerwhich were in the same place for both the trip up and back!
Steve Waite
Species List - 06/08/2023

Mute Swan

Herring Gull

Canada Goose

Great Black-backed Gull

Shelduck

Stock Dove

Teal

Woodpigeon

Mallard

Swift

Pheasant

Kingfisher

Cormorant

Magpie

Little Egret

Jackdaw

Grey Heron

Carrion Crow

Buzzard

Sand Martin

Kestrel

Swallow

Peregrine

House Martin

Moorhen

Cetti's Warbler (heard only)

Oystercatcher

Willow Warbler (heard only)

Avocet

Reed Warbler

Ringed Plover (heard only)

Starling

Lapwing

Robin

Dunlin

Stonechat

Black-tailed Godwit

Dunnock

Curlew

House Sparrow

Common Sandpiper

Pied Wagtail

Green Sandpiper

Meadow Pipit

Greenshank

Greenfinch

Redshank

Goldfinch

Black-headed Gull

Linnet

Lesser Black-backed Gull
Book your next Birdwatching Trip
Other News