Birdwatching Trip Report – 25th July 2021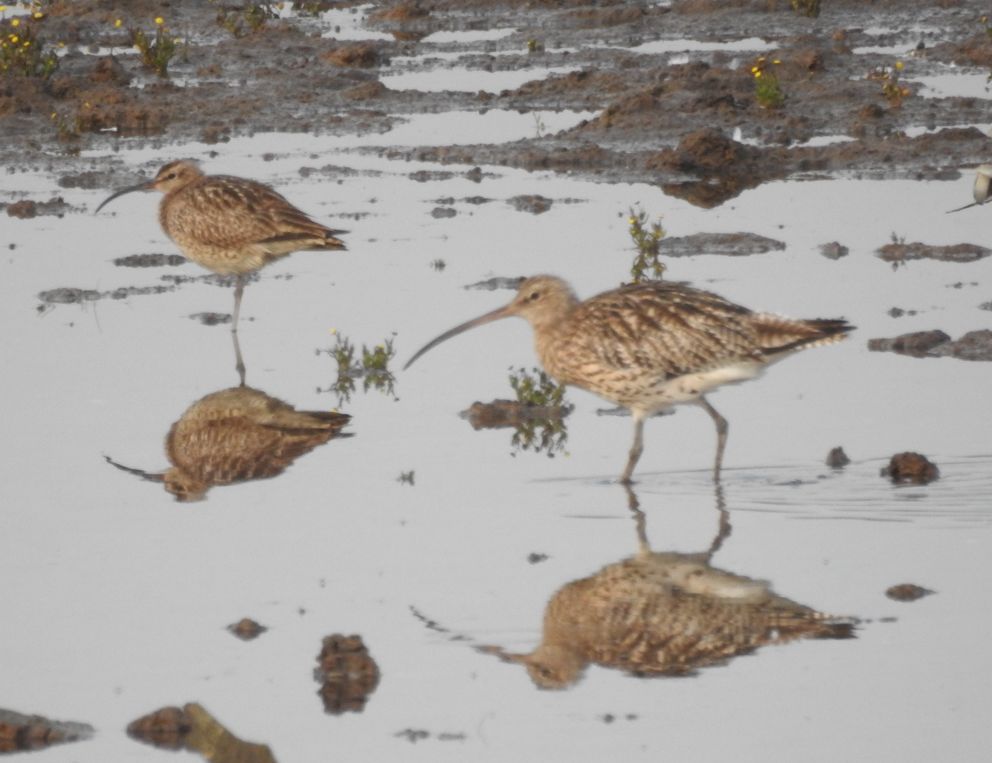 Steve Waite
Despite the threat of poor weather from the forecast, the evening couldn't have been more perfect weather-wise. Not a breath of wind in the air, and the flat light cleared as the sunset to cast a beautiful golden glow across the whole of the Axe Valley.
The birds put on a good show too, with a Wood Sandpiper on the Estuary a brilliant start to the trip. Unusually for this species that prefer marshland, it was on the Estuary as we went north and back south. A real treat to see this scarce passage migrant. As expected Common Sandpiper were far more numerous, along with the usual Redshank, Curlew, Black-tailed Godwit, and Oystercatchers. Further wading bird highlights came at Colyford Marshes, however, with two dainty Little Ringed Plovers feeding on Colyford scrape along with a Whimbrel. This close relative of the Curlew showed week amongst a flock of the latter, allowing direct comparisons to be made.
Buzzards and Kestrels showed well as expected, with an adult male Sparrowhawk delighting the crowds as it flew right alongside the tram. A Kingfisher did exactly the same just a few minutes later and showed again briefly later on in the trip. Another nice highlight was seeing two species of Woodpecker. A Great Spotted Woodpecker fed on a trackside tree, whilst a Green Woodpecker showed for several minutes on a nearby fencepost.
In all, a total of 57 species were recorded during the trip.
SPECIES LIST - 25/07/2021

Pheasant

Sparrowhawk

Canada Goose

Buzzard

Mute Swan

Kingfisher

Shelduck

Great Spotted Woodpecker

Mallard

Green Woodpecker

Teal

Kestrel

Swift

Magpie

Stock Dove

Rook

Woodpigeon

Carrion Crow

Collared Dove

Blue Tit

Moorhen

Sand Martin

Oystercatcher

Swallow

Lapwing

House Martin

Little Ringed Plover

Chiffchaff (heard only)

Whimbrel

Sedge Warbler (heard only)

Curlew

Reed Warbler

Black-tailed Godwit

Wren

Dunlin

Starling

Common Sandpiper

Robin (heard only)

Redshank

Stonechat

Wood Sandpiper

House Sparrow

Greenshank

Dunnock (heard only)

Black-headed Gull

Pied Wagtail

Great Black-backed Gull

Meadow Pipit

Herring Gull

Chaffinch

Lesser Black-backed Gull

Linnet

Cormorant

Goldfinch

Grey Heron

Reed Bunting

Little Egret
Steve Waite
Join us for a ride through two beautiful nature reserves, Seaton Marshes and Colyford Common, next to the glorious River Axe estuary, which plays host to an ever-changing selection of birds through the seasons.
The trips will be led by local experts who know the estuary well.
Departing from Seaton Station
8th, 15th August 6-8pm
11th. 18th September 8-10am
2nd, 17th, 30th October 8-10am
Other News