Birdwatching Trip Report – 23rd July 2023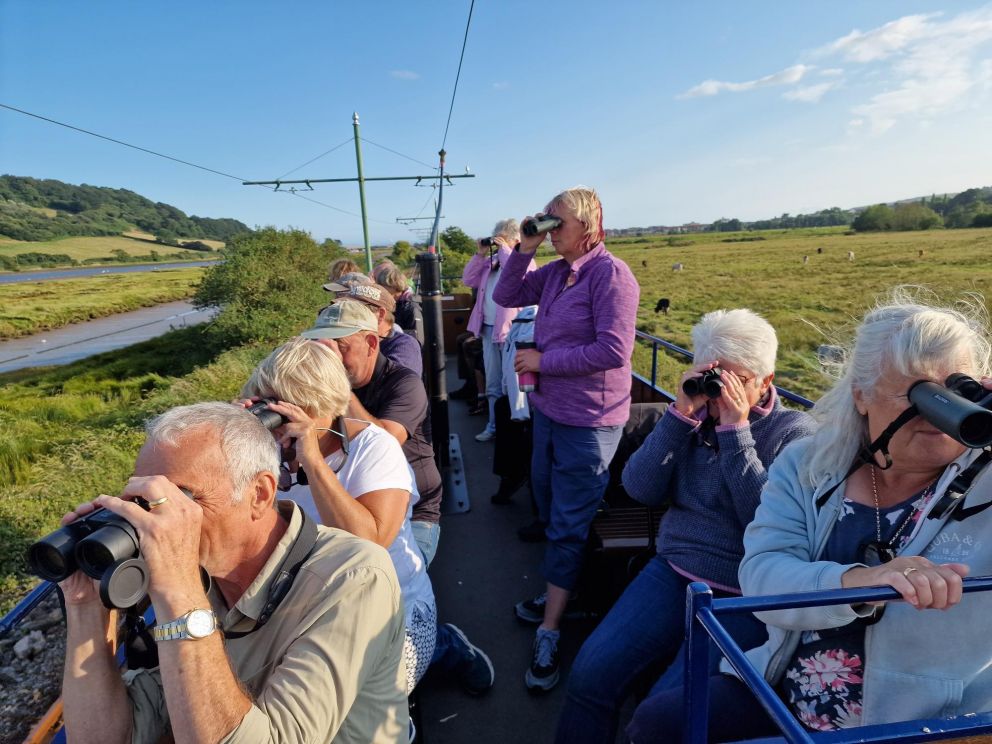 Steve Waite
The final event of The Natural Seaton Festival 2023 saw a two-hour birdwatching tram leave Seaton Station at 6pm. The weather could hardly have been better, with the sun shining on the tram and the beautiful Axe Valley for almost the entirety of the trip.
Multiple Kingfisher sightings were one of two main highlights of the evening, with at least three possibly four different birds seen. The sightings included some excellent flight views in the evening light, two together, and close views of birds perched. Luck was certainly on our side but well done to our driver for the night, Simon, for keeping tram noise to a minimum which really helped with our efforts.
It was also a thrill to see the Axe born and bred Avocets on Black Hole Marsh. Two adults nested on the marsh in June, which is the first time this species has ever nested in Devon, so it was a very special and somewhat momentous experience to watch the parents and their three chicks feeding on the lagoon at close quarters. It was brilliant to see the young, now a month old, looking so big and strong, with two of them even practising their wing flapping!
Other highlights included two close Whimbrel, three Greenshank, seven Common Sandpipers, several Lapwing and an early returning Teal. Amongst the gulls were singles of Lesser Black-backed Gull, Mediterranean Gull and Common Gull to add further interest. Swallows, House Martins and Sand Martins all showed well to the tram, with large flocks of House Sparrows, Goldfinches and Starlings all adding to the evening's avian entertainment.
In total 50 species of birds were recorded during the two-hour trip (see below) as well as very close sightings of two Roe Deer and a Fox hunting Rabbits just north of Riverside.
Steve Waite
Species List - 23/07/2023
Mute Swan
Canada Goose
Shelduck
Teal
Mallard
Pheasant
Cormorant
Little Egret
Grey Heron
Buzzard
Water Rail (heard only)
Moorhen
Oystercatcher
Avocet
Lapwing
Black-tailed Godwit
Whimbrel
Curlew
Common Sandpiper
Greenshank
Redshank
Black-headed Gull
Mediterranean Gull
Common Gull
Lesser Black-backed Gull
Herring Gull
Great Black-backed Gull
Feral Pigeon
Stock Dove
Woodpigeon
Magpie
Rook
Carrion Crow
Kingfisher
Sand Martin
Swallow
House Martin
Cetti's Warbler (heard only)
Reed Warbler
Wren (heard only)
Starling
Blackbird
Robin (heard only)
Dunnock
House Sparrow
Meadow Pipit
Greenfinch
Goldfinch
Linnet
Reed Bunting
Book your next Birdwatching Trip
Other News