Birdwatching Trip Report - 15th April 2023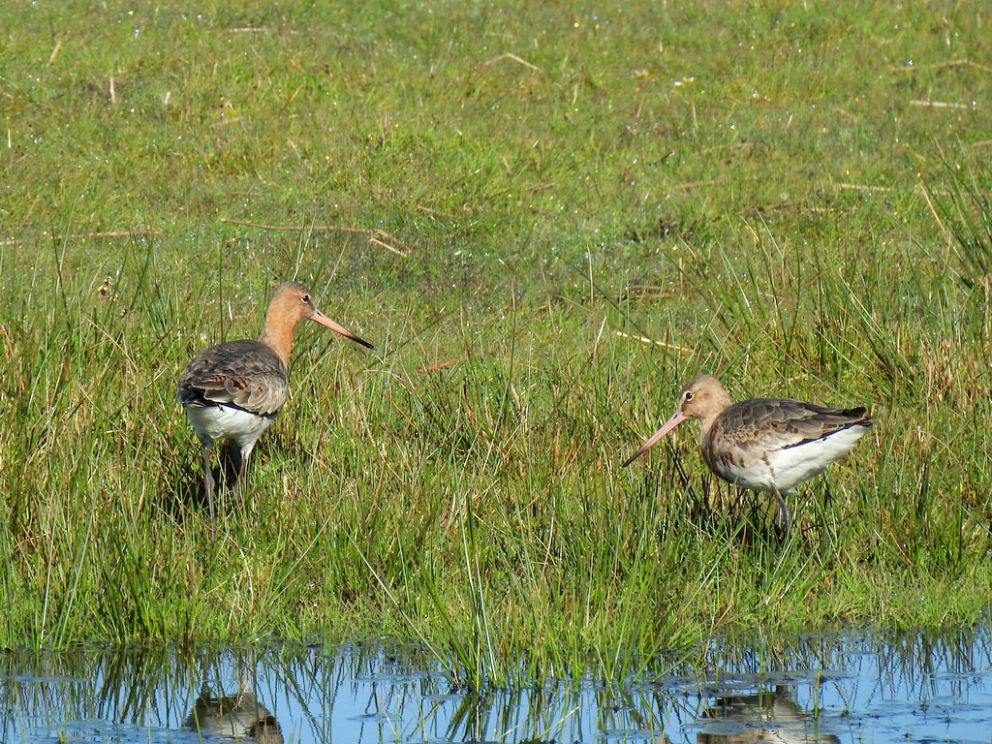 Gavin Haig
We had absolutely glorious weather for this morning's Birdwatching Tram! Evidence that spring migrants are arriving is reflected in the species list below, with our first Whimbrel and Sedge Warbler of the year, plus a full set of hirundines: Sand Martin, Swallow and House Martin were all present and correct.
Notable gaps in our total of 51 species were the wintering ducks, Wigeon and Shoveler, all moved on now. A small number of Teal were still here – mostly on Black Hole Marsh – but soon they will be off too. Likewise, the lovely Black-tailed Godwits, several of which were sporting the rich chestnut colours of their breeding plumage; they will be heading for Iceland shortly.
The piping calls and noisy displays of Oystercatchers accompanied us everywhere this morning, a dominant feature of the Axe Estuary bird life at this time of year. Hopefully, there will be a few successful breeders again this year.
Among the less regular visitors were four Greylag Geese feeding with Canada Geese.
We were also treated to great views of three Roe Deer at Colyford Common.
All species seen or heard this morning are listed below...
Species List - 15th April 2023

Canada Goose

Common Gull

Cetti's Warbler

Greylag Goose

Great Black-backed Gull

Chiffchaff

Mute Swan

Herring Gull

Sedge Warbler

Shelduck

Lesser Black-backed Gull

Wren

Teal

Cormorant

Starling

Pheasant

Grey Heron

Song Thrush

Feral Pigeon

Little Egret

Blackbird

Stock Dove

Buzzard

Robin

Woodpigeon

Magpie

House Sparrow

Moorhen

Jackdaw

Dunnock

Oystercatcher

Rook

Pied Wagtail

Whimbrel

Carrion Crow

Meadow Pipit

Curlew

Blue Tit

Chaffinch

Black-tailed Godwit

Great Tit

Greenfinch

Redshank

Sand Martin

Linnet

Greenshank

Swallow

Goldfinch

Black-headed Gull

House Martin

Reed Bunting
Book your next Birdwatching Trip
Other News