Birdwatching Trip Report - 12th August 2023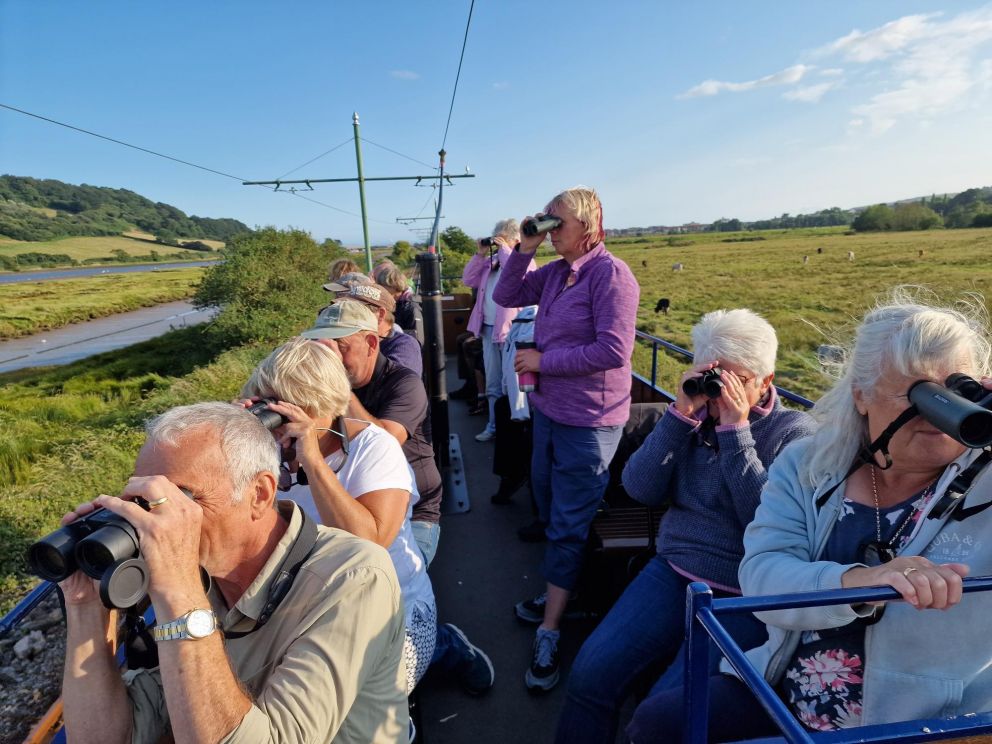 Steve Waite
It was a dry but breezy evening, and we managed to see a total of 48 species.
Waders were a major highlight of our trip, with both the estuary and Seaton Wetlands providing us a with a fine spectacle. We enjoyed great views of Oystercatchers, Curlew and at least two Whimbrel on the river, and a host of different species on Black Hole Marsh, including Black-tailed Godwit, Redshank, Dunlin, Common Sandpiper, Greenshank and Lapwing. There were at least six Avocets, including our home-grown trio which are now the size of adults. And the Colyford Marsh scrape added Green Sandpiper to our list.
One of the more unusual species of the trip was Cattle Egret. Once a very rare bird in Britain, in the last two decades that status has changed dramatically and Cattle Egret now breeds here. In the Axe Valley it is a regular visitor these days, though not in the sort of numbers we saw from the tram! A flock of at least 11 birds was present, with cattle, just north of Seaton Marshes. Although quite distant, it was entertaining to watch them interacting with the herd, darting about and feeding at their feet.
It was great to see some Kingfishers, but they didn't give themselves up easily! Although seen on at least four occasions, mainly we were treated to that familiar flash of blue as they dart along. Thankfully one chose to fly down the river parallel with the tramline, giving decent views.
We saw two Wheatears. It is always nice to catch up with this species as it heads south after the breeding season.
Finally, one or two fortunate members of the group had very close views of a Sparrowhawk perched alongside the tramline!
All birds seen or heard are listed below...
Species List - 12th August 2023

Canada Goose

Whimbrel

Wren

Mute Swan

Curlew

Dunnock

Shelduck

Common Sandpiper

Wheatear

Teal

Green Sandpiper

Blackbird

Mallard

Greenshank

Blue Tit

Pheasant

Redshank

Magpie

Cormorant

Black-headed Gull

Jackdaw

Cattle Egret

Lesser Black-backed Gull

Rook

Little Egret

Herring Gull

Carrion Crow

Grey Heron

Great Black-backed Gull

Starling

Sparrowhawk

Feral Pigeon

House Sparrow

Moorhen

Stock Dove

Greenfinch

Oystercatcher

Woodpigeon

Goldfinch

Avocet

Kingfisher

Linnet

Lapwing

Sand Martin

Dunlin

Swallow

Black-tailed Godwit

Pied Wagtail
Other News