Birdwatching Tram Report - 9th September 2023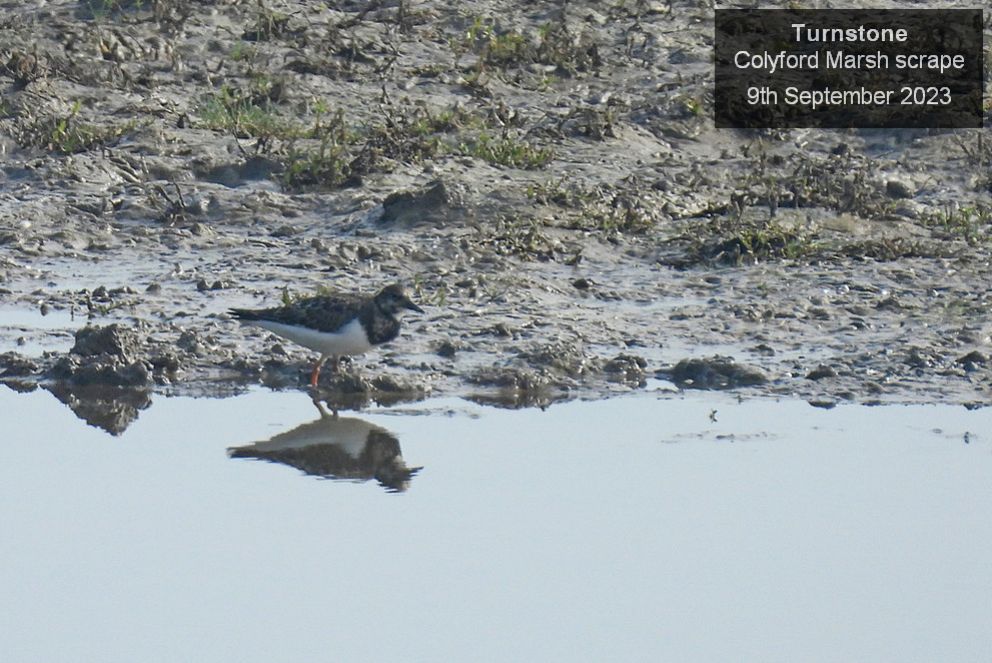 Gavin Haig
Report by Guide Gavin Haig.
Despite sunshine blazing away on the high ground either side of the Axe valley, Saturday morning began with the estuary and marshes shrouded in heavy mist. This took quite a while to clear, and no doubt affected the trip list, but our party still managed to see and hear a terrific collection of birds, 52 species in all.
September is always an exciting time, with migration in full swing. You never know quite what you are going to get. On this occasion we were treated to an excellent collection of waders. Not just the regulars, like Oystercatcher, Curlew, Black-tailed Godwit and Redshank, but also a number of species much scarcer on the Axe: Curlew Sandpiper, Ruff, Turnstone and Knot, for example.
Biggest surprise of the morning was a Great White Egret which flew north over Black Hole Marsh towards Colyford Common. We were hoping to see it settled later, but unfortunately it was nowhere to be found. Its long, bright yellow bill and ponderous flight (they are the size of a Grey Heron, much bigger than the regular Little Egrets) made it easy to identify in flight. A shame it was such a brief encounter though.
One of our party was especially good at picking up the Kingfisher's piercing call, and we had fleeting views on four occasions. This species is always a treat to see on the Birdwatching tram. Likewise heard, but in both cases not seen, were Cetti's Warbler and Water Rail, both being typically elusive!
Small birds mostly kept a low profile in the early mist, but a few Stonechats, along with two Linnets and a party of Meadow Pipits, kept us entertained. Also, especially in view of their declining fortunes in so many places, it was lovely to see a large party of House Sparrows early in the trip, not far from the tram station.
Unexpectedly we saw no birds of prey. I'm not sure how we managed to miss Buzzard and Kestrel, for example, both almost guaranteed normally. Which just goes to show that the birds always have the last word!
All birds seen or heard are listed below.
Species List - 9th September 2023

Canada Goose

Dunlin

Wren

Mute Swan

Ruff

Robin

Shelduck

Black-tailed Godwit

Stonechat

Wigeon

Curlew

Blackbird

Teal

Common Sandpiper

Cetti's Warbler

Mallard

Greenshank

Willow Warbler

Pheasant

Redshank

Chiffchaff

Cormorant

Turnstone

Blue Tit

Little Egret

Black-headed Gull

Magpie

Great White Egret

Herring Gull

Jackdaw

Grey Heron

Great Black-backed Gull

Carrion Crow

Water Rail

Feral Pigeon

Starling

Moorhen

Stock Dove

House Sparrow

Oystercatcher

Woodpigeon

Greenfinch

Ringed Plover

Kingfisher

Goldfinch

Lapwing

Swallow

Linnet

Knot

Meadow Pipit

Curlew Sandpiper

Pied Wagtail
Click to book the Birdwatching Tram
Other News