A Dog Friendly Day Out in East Devon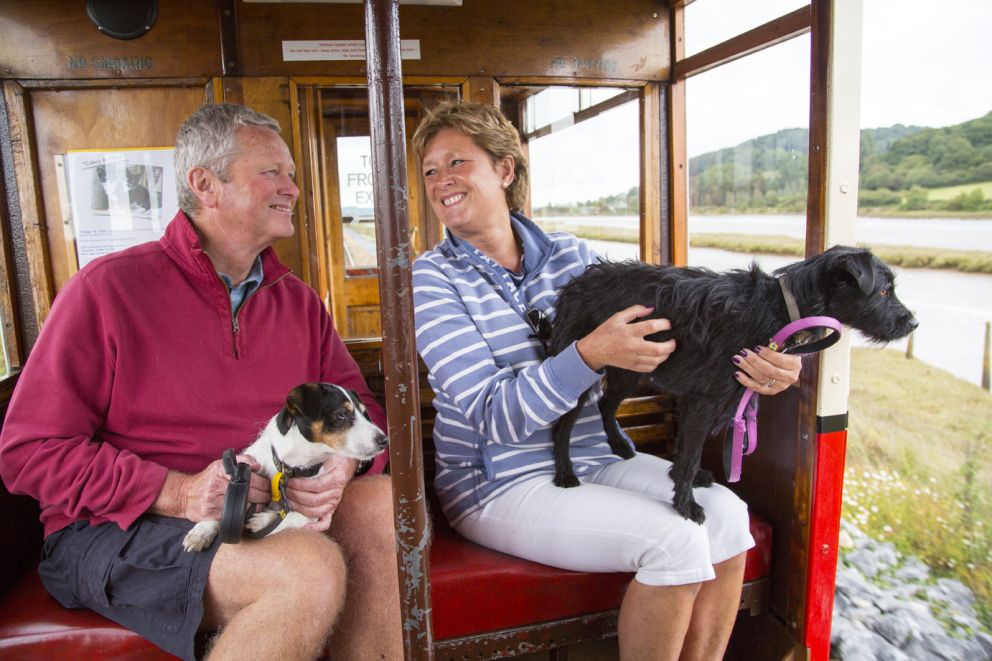 Get out with your dog this Easter!
Everyone loves spending a day out of the house with an activity or destination in mind, and those days are always made better with 'mans best friend' the family dog! We know it is always easier to plan a day out if 'Rex' 'Rover' and 'Bella' can join the fun.
Here is a list of great things to do in East Devon's Axe Valley with your four-legged friend, to ensure a dog-friendly day out:
Seaton Tramway is Dog Friendly
Bring the dog along for a ride on one of our trams through the beautiful Axe Valley. Let the wind flow through their fur as they look out to the abundant wildlife along the River Axe and Seaton Wetlands, daydreaming of a chase through the fields.
Dogs can ride on the lower decks of all our trams, when accompanied by a human companion. Seaton and Colyton Stations also have dogs bowls to keep refreshed after a day of riding the trams. Good dogs may even get a treat when they visit Seaton Station, just ask one of our staff members and they'll be sure to share!
Dogs can be booked online with your All Day Explorer Ticket, or upon arrival at either of our Stations.
East Devon Walks
Do you and your pooch love to walk? After your tram ride, why not try one of the dog friendly walks in the area.
The South West Coast Path joins up to Seaton Esplanade and runs west via Beer and Sidmouth or East to Lyme Regis and beyond. With 630 miles to discover walking through Seaton could be a great start or end to your day.

East Devon Way and the River Coly Walk
Fancy breaking your trip on the tram? Alight at Colyford Station, cross the road at the White Hart pub and follow the river Coly all the way up to Colyton station. This walk is perfect, especially on a sunny day as it is not under the cover of the trees. You will even see the trams going to and from Colyton. Before rejoin the tram south, why not enjoy a drink or meal at our Tramstop Café.

A part of this walk, also joins the East Devon Way, which like the Southwest Coast path joins Exmouth to Lyme Regis on an inland walk. The East Devon way even crosses part of our track – just make sure to look both ways before crossing!
If you've got your car, you can also visit Morgan Hayes Forest Trail, which is approximately 3km of woodland walk about a 5-minute drive from Seaton and Colyton, along the A3052
Visit the Beach
Who doesn't love to visit the Beach!? Seaton is a pebble beach and has a dog friendly section all year round at the far west of the beach after the promenade and east of the Axe Yacht Club. Dogs are allowed on the whole beach from October 1st to April 30th. Just remember to pick up after your dogs and dispose of in the waste bins provided!

Enjoy the sun setting over Beer head and share a portion of chips! Mmm! Are we invited?

So there it is, plenty of things to do with your dog in Seaton. Remember to take lots of pictures and tag us and hashtag #SeatonTramway
Other News