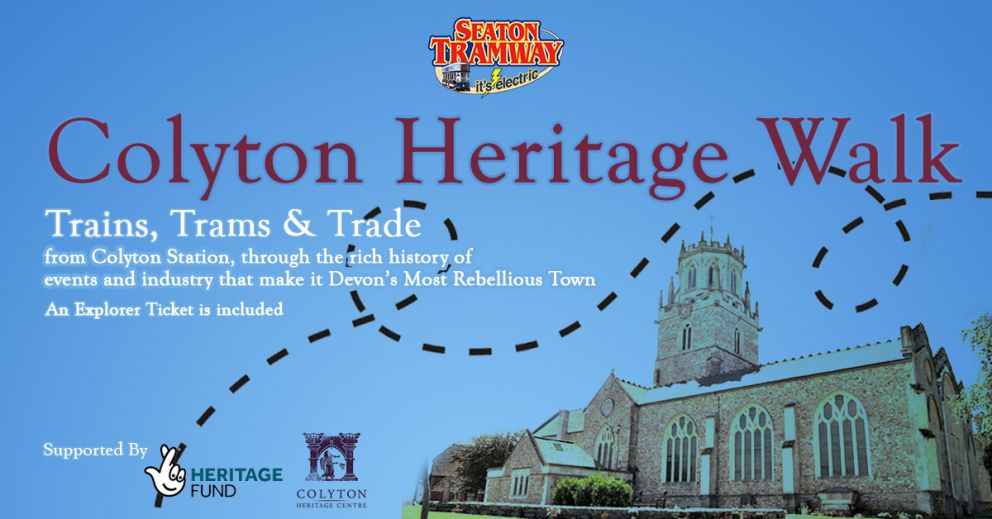 Colyton Heritage Walk
Starting at Colyton tram station, you will learn all about the history of the branch line and the coming of the Tramway to Seaton. From there you will be taken on a fascinating walk into the town centre, stopping at points of interest and learning about the town's industry and key events in times gone by. All guided by one of our volunteers.
At the end of the walk, you will finish at the Colyton Heritage Centre operated by the Colyton Parish History Society there are exhibitions of local interest and a Family History Service Point.
You are welcome to make your way back to Colyton Station where you are invited to visit our Tramstop Cafe and gift shop and take advantage of your Explorer ticket (included in the price) to enjoy a return tram ride to Seaton & all-day travel.
The walks will start at Colyton Station at 10.30 and last around 90 minutes.
Please note that participants should be able to walk and stand comfortably for that length of time, although there are some places to sit at various points on the route.
Numbers for each walk are limited so book early!
Created in partnership with Colyton Heritage Centre and National Lottery Heritage Fund
Tickets
£14.95 – include the walk and an Explorer Ticket for all-day travel on the trams
Please note: If you wish to start your day at Seaton, you must get the 10:00 tram to make it to Colyton for your 10:30 walk.
Select dates throughout the year
SHARE WITH FRIENDS
More Events